March 14, 2021 By Blue Line Staff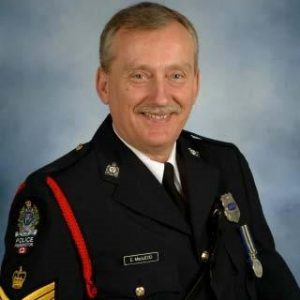 After over four decades in the police service, Sgt. Eric MacLeod of the Fredericton City Police is retiring. Born and raised in Cape Breton, N.S., MacLeod attended the Atlantic Police Academy in 1976. He was hired straight after graduation and joined the Fredericton City Police in January of 1977. MacLeod has served in many sections and units throughout his career, including Patrols, Drug Unit, Intelligence Unit, Street Crime Unit and as an Exhibit officer. He officially retired on Jan. 29.
---
Toronto Police Service member Kimberley O'Toole was promoted to the rank of superintendent in January. She has had a diverse career, working in both a uniform and in an investigative capacity. Areas of
note include her work in child abuse, sex and gender-based crimes, youth crime, human rights and the Homicide Squad. O'Toole has served as president of the Ontario Women in Law Enforcement Association since January 2018 and has served as inspector at the Toronto Police College since December 2018.
---
Unit Commander Stacy Clarke was
promoted to the rank of superintendent within the Toronto Police Service (TPS) in January. A 24-year veteran, she became the first Black woman to achieve the rank within the TPS, the largest municipal police service in Canada. Clarke has worked across the service's Primary and Community Response units, Intelligence and Criminal Investigative Bureau, among others. She is also credited with implementing the province's signature Street Check Legislation. Clarke is a 2018 Civic Action Fellow and was recognized as one of the 100 Accomplished Black Canadian Women in 2018.
---
Charlottetown Police Chief Paul Smith, the longest-serving police chief in Charlottetown history announced his retirement in early February. Smith took over the role of chief in 1994, succeeding Chief Don Webster, and will step down in late April after more than 40 years with Charlottetown Police Services. Smith has been a police officer since February of 1977, when he joined the Borden department. He joined the force in Charlottetown in March 1978.
---
Chris Barry was officially sworn in as theCity of Belleville's deputy police chief in February. Barry, 52, joined the Belleville, Ont., force in 1992. His roles within the service have included General Patrol, Community Policing, School Response, Criminal Investigations and Operations. He was promoted to patrol sergeant in 2005, to staff sergeant in 2010 and to inspector of the operations division in 2015 (tasked with overseeing patrol platoons). Barry later held the same rank in the Support Services Division. He returned to operations in 2020, becoming acting deputy chief after the retirement of Chief Ron Gignac. He officially began his duties Jan. 1 but wasn't sworn in until Feb. 15 due to COVID-19 restrictions.
---
The Surrey Police Service has announced the
appointment of Mike LeSage as one of the department's three deputy chief constables. LeSage brings more than 24 years of policing service to the role. He is a longtime RCMP member, where he was promoted through the ranks. At the time of his new appointment, LeSage served as assistant commissioner and as chief officer for the Combined Forces Special Enforcement Unit (CFSEU) in British Columbia. In his new role, he will be tasked with taking charge of the Community Policing Bureau.
---
Shelburne, Ont., Police Chief Kent Moore retired on Feb. 18—the same day the service made its transition to OPP. Moore spent 34 years serving on the Town of Shelburne's police force, 15 of which he spent as chief. He joined the Shelburne Police Service as a constable in January of 1987; a time when the local force had only five officers. Moore was later promoted to sergeant in 1999 and was promoted to chief in 2005. During his career, Moore was awarded the Order of Merit (M.O.M) in 2018, Police Exemplary Service Medal for 30 years of service in 2017 and a Queens Diamond Jubilee Medal.
---
 PROMOTIONS, RETIREMENTS, RECOGNITION
If you have an officer in your agency recently promoted or retiring or an individual you wish to have recognized (major award or recently deceased) you can let Blue Line magazine know by emailing: bcharlebois@annexbusinessmedia.com.
---
Print this page