Bronze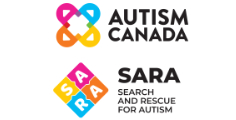 ---
Autism Canada brings you Search and Rescue for Autism (SARA). A first of its kind training to support first responders and the autistic community. With prevention tools and technical training, our goal is to reduce the frequency and severity of wandering, bolting and 'lost' events in the autistic community.
Autism, and neurodiversities, are more and more common in our communities. Wandering and bolting, and becoming lost, are real challenges (and fears) for many families and caregivers. Autism Canada and their Search and Rescue for Autism program have developed Social Stories and the "What is Lost?" comic. These Social Stories help families and the community at large become active in a prevention role around wandering and bolting with the ultimate goal of preventing autistics from becoming lost. Regardless of the initiating event, the prevention of becoming lost and secondary incidents is crucial.
Autism Canada offers Corporate, Community and Responder training around the areas of Sensory Supports, Recognizing Behaviours, The Prevention of Becoming Lost as well as technical Search and Rescue training. This specialized training for Search and Rescue is the first of its kind anywhere and provides SAR teams, and other first responders, the opportunity to train for the unique needs of the autistic community in Canada.
Our Search and Rescue for Autism program is continuously developing specialized custom training and we invite you to contact us about Search and Rescue for Autism, Recognizing Behaviours or Sensory Supports to meet the needs of your department, region and community.
For more information, please visit our websites: https://sarautism.ca/ and https://autismcanada.org or Follow us on social media @sarautism (TW and IG)