Features Podcast
Blue Line, The Podcast: Pandemic panic buying and responding as police officers
May 6, 2020 By Staff
Is anyone else wondering, "how is there still no toilet paper or flour in the stores?"
According to Psychology Today, Steven Taylor, a clinical psychologist at the University of British Columbia and an expert in the psychology of pandemics, recently said, "the fear of scarcity can create real scarcities."
In this month's episode of Blue Line, The Podcast, to speak to this issue, we've called upon social worker Elaine Birchall in Ottawa to share her advice for police officers who may be handling calls that involve stockpiling, panic buying and/or full-on hoarding.
Birchall is a hoarding behaviour and intervention specialist, the founder of the Canadian National Hoarding Coalition and she also spent time as a counsellor with the Nepean Police Victim Crisis Unit (amalgamated into the Ottawa Police Service in 1995).
She says learning the criteria and how to assess a given situation will help officers avoid unnecessary poor outcomes and improve compliance.
"A reasonable accommodation for police officers might just mean being aware that an abundance of caution might be warranted, because hoarding is not about housekeeping," Birchall says. "It's about the void that person is trying to fill for different reasons. And they [police officers] can't solve that void; they just need to be aware of it so they can modulate their interaction with the person."
Listen to the SoundCloud link below for the full conversation or wherever you get your podcasts under Annex Business Media: Podcasts.
You can also stream the show here at annexbusinessmedia.com/podcasts or on our own playlist here: https://soundcloud.com/user-381015363/sets/blue-line-podcast.
More questions about responding to calls involving hoarding? You can reach Birchall at https://hoarding.ca/contact/.
Did you miss our April podcast episode that tackled COVID-19 concerns for our blue families with former police chief, Senator Vern White. Listen HERE.
---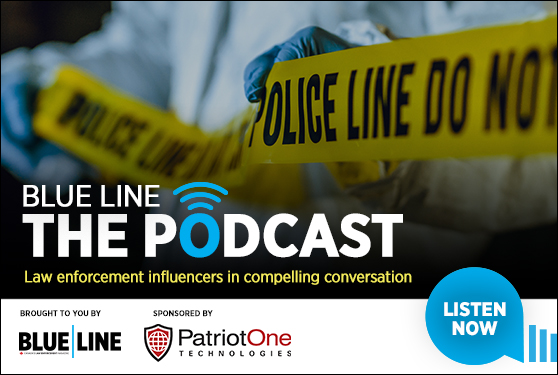 This episode is brought to you by Patriot One Technologies, whose mission is to deliver innovative threat detection and counter-terrorism solutions for safer communities. Patriot One's PATSCAN™ Multi-Sensor Covert Threat Detection Platform identifies and reports weapons and threats wherever required; from car park to building approach, from employee & public entryways to inside the facilities.
Learn more at Patriot1tech.com.
---
Print this page