Features Podcast
Blue Line, The Podcast: Martin Cronin, threat detection & security expert
March 5, 2020 Sponsored by by Patriot One Technologies
For this episode of Blue Line, The Podcast, we steal some time with Martin Cronin, the CEO of Patriot One Technologies, during one of his Washington, D.C. trips. Patriot One is a provider of cognitive Microwave Radar technology for concealed weapons detection and the current sponsor of our podcast.
"We've been building a multi-layered approach to threat detection," Cronin says. "We have a number of different sensor technologies, which live together on a common platform — it's artificial intelligence driven. The idea is to really change the nature of threat detection for public safety and get away from fixed, visible security screening infrastructure, and instead get to distributed, low-cost, embedded, smart network sensors… So, you can identify threats before attacks happen."
Cronin worked for the British government for 21 years, spending most of his time in high threat environments in the Middle East and South Asia where he was involved in counter terrorism policy work.
We chat about the evolving trends in threat detection, artificial intelligence and privacy concerns as well as law enforcement partnerships.
"Very often police themselves may not be the client, buying and installing systems, but they're the source of advice to people in the community on how they can protect their premises and patrons," Cronin tells listeners. "As much as we can be force multiplier for police… in the same way, they're a force multiplier for us."
Listen to the SoundCloud link below for the full conversation or wherever you get your podcasts under Annex Business Media: Podcasts.
You can also stream the show here at annexbusinessmedia.com/podcasts or on our very own playlist here: https://soundcloud.com/user-381015363/sets/blue-line-podcast.
Did you miss our February 2020 episode with Jim Bremner, president of the Canadian Tactical Officers Association? Listen HERE.
---
This episode is brought to you by Patriot One Technologies. This company's mission is to deliver innovative threat detection and counter-terrorism solutions for safer communities. Patriot One's PATSCAN™ Multi-Sensor Covert Threat Detection Platform identifies and reports weapons and threats wherever required; from car park to building approach, from employee & public entryways to inside the facilities. Learn more at Patriot1tech.com.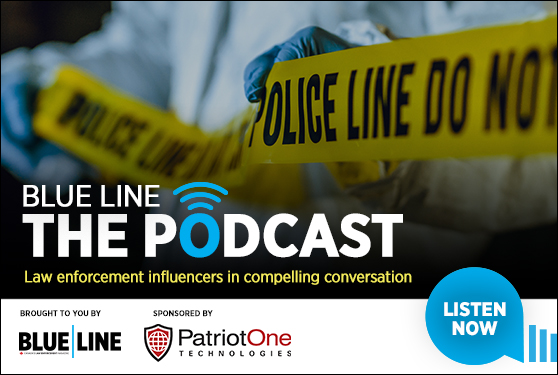 ---
Print this page