Features Podcast
Blue Line, The Podcast: Inclusion, authenticity & police culture with Supt. Isobel Granger
June 15, 2020 By Staff
Isobel Granger, recently promoted to superintendent at Ottawa Police Service, is now leading the service's newly launched Respect, Values and Inclusion (RVI) Directorate, which will incorporate a whole-of-service approach to issues like workplace harassment, discrimination, human rights issues, as well as ethics, equity, diversity and inclusion principles.
Supt. Granger started her career as the first Black female officer hired by the British South Africa Police in Rhodesia, now Zimbabwe. Today, she is Ottawa's first Black superintendent and is also the highest-ranking senior Black female officer in Canada, according to media reports, following the retirement of Peel Regional Police Deputy Chief Ingrid Berkeley-Brown earlier this year.
She joins us for the June edition of Blue Line The Podcast to share her thoughts on the new opportunity with RVI, living authentically, climbing and building ladders, and more on her recently published book, Smashing the Glass Ceiling: A 10-step Guide Using Creativity and Innovation to Bust Through the Barriers to Female Leadership.
"I came from a segregated exclusive environment and I learned you cannot have growth in that environment. It has to be inclusive," she says. "I've always known it's never been about me; it's always about the greater purpose. Nelson Mandela explained it; in my other language we call it Ubuntu, which means 'I am because we are.'"
Listen to the SoundCloud link below for the full conversation or wherever you get your podcasts under Annex Business Media: Podcasts.
You can also stream the show here at annexbusinessmedia.com/podcasts or on our own playlist here: https://soundcloud.com/user-381015363/sets/blue-line-podcast .
Did you miss our May podcast episode on hoarding 101 and responding as police officers? Listen HERE.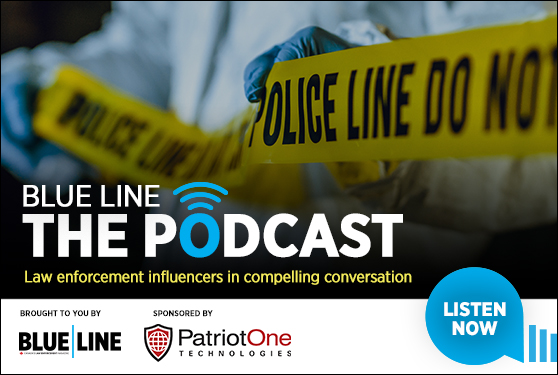 This episode is brought to you by Patriot One Technologies, whose mission is to deliver innovative threat detection and counter-terrorism solutions for safer communities. Patriot One's PATSCAN™ Multi-Sensor Covert Threat Detection Platform identifies and reports weapons and threats wherever required; from car park to building approach, from employee & public entryways to inside the facilities.
Learn more at Patriot1tech.com.
---
Print this page